President of Ireland makes historic State Visit to Cuba
Based on Granma and CubaDebate Articles | Thursday, 16 February 2017 | Click here for original article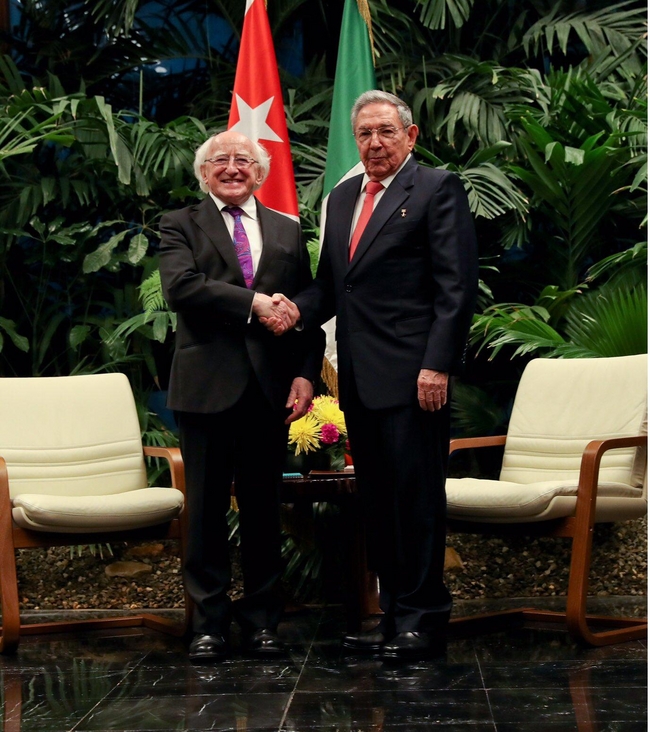 Cuba's President Raúl Castro met with Michael D. Higgins, President of Ireland, on Wednesday afternoon, as part of an official visit to Cuba, the first ever State visit by an Irish President to the island.
The Irish President paid tribute to Cuban National Hero José Martí at the memorial erected in his honour in Havana's Revolution Square, and held official conversations with Cuba's Raúl Castro.
During his stay on the island, the Irish leader will participate in activities related to the 26th International Book Fair, and offer a key note speech at the capital's San Geronimo University.
In an atmosphere of cordiality, both dignitaries noted the good state of bilateral relations and recognised the potential to foster economic - commercial exchange and cooperation. They also exchanged on issues on the international agenda, Cuba Debate reported.
The distinguished visitor was accompanied by David Stanton, Minister of State, Ministry of Justice and Equality; Sonja Hyland, Irish ambassador; Art O'Leary, Secretary General of the President; Nial Burgess, Secretary General, Ministry of Foreign Affairs and Trade; Claire Power, Advisor to the Office of the President and Philip Hamell, Assistant Secretary of the Office of the Prime Minister.
The Cubans who received the Irish delegation included Ministers of Foreign Affairs, Bruno Rodriguez Parrilla, Maria Esther Reus González, Minister of Justice and Rogelio Sierra Diaz, vice minister of Foreign Affairs.
Higgins also visited Chile, Peru and Colombia as part of his Latin American tour, the first to be made by an Irish President.
Article based on reports in CubaDebate (Spanish) and Granma.
---