Díaz-Canel receives UN Secretary General
Granma | Tuesday, 8 May 2018 | Click here for original article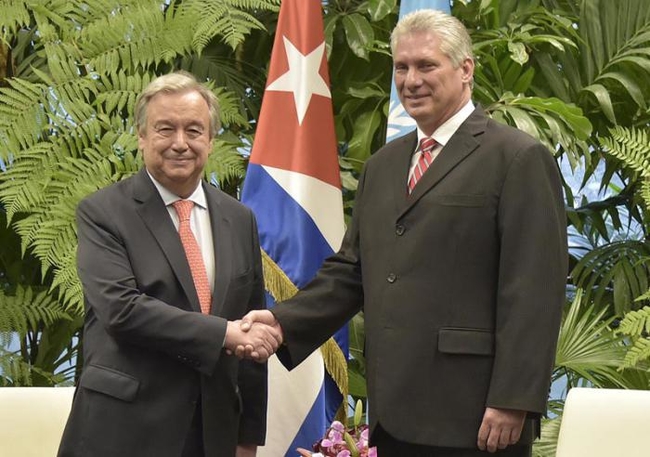 Miguel Díaz-Canel Bermúdez, President of Cuba's Councils of State and Ministers, yesterday afternoon, May 7, received his Excellency António Guterres, United Nations Secretary General, who is on an official visit to our country, on the occasion of the 37th Session of the Economic Commission for Latin America and the Caribbean (ECLAC), taking place in Havana.
During the cordial meeting, the two leaders addressed issues related to peace and international security, the United Nations 2030 Agenda for Sustainable Development, climate change, and the tumultuous, dangerous world situation.
Guterres praised Cuba's work in multilateral organisations, while Díaz-Canel Bermúdez reiterated the nation's commitment to the principles of the UN Charter and the Proclamation of Latin America and the Caribbean as a Zone of Peace, as well as the conviction that a better world is possible. He also commented on Cuba's progress in updating the country's socio-economic model.
Accompanying the distinguished guest were the Excellencies Alicia Bárcena, ECLAC executive secretary, and Consuelo Vidal, resident UN organisations coordinator, as well as Katrin Hett, assistant for Political Affairs within the Secretary General's executive office.
Present on the Cuban side were Foreign Minister Bruno Rodríguez Parrilla; Rodrigo Malmierca Díaz, minister of Foreign Trade and Investment; Cuba's permanent UN representative Ambassador Anayansi Rodríguez Camejo; and the Foreign Ministry's director general for Multilateral Affairs and International Law, Rodolfo Reyes Rodríguez.
---