Cuba Solidarity Campaign marches against Trump in London
Campaign News | Wednesday, 5 June 2019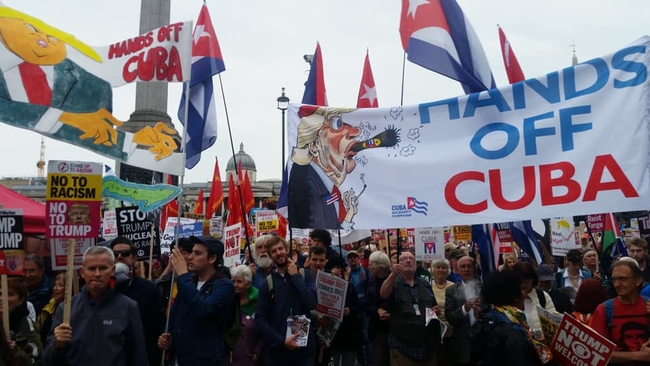 Cuba Solidarity Campaign staff, Executive Committee members, friends and supporters marched in the Together against Trump demonstration in central London yesterday.
CSC supporters and Cubans living in Britain marched with Cuban flags and two 'Trump: Hands off Cuba' banners. CSC marched against Trump's policies of aggression, blockade and intervention in Cuba and Latin America, and distributed hundreds of campaign leaflets during the demonstration.
At the same time of the demonstration, the Trump administration announced further anti-Cuba policies, with a new travel ban on US citizens visiting the island, ending 'people-to-people' travel, a vital source of income for the Cuban people.
President Trump was in Britain for a state visit, following an invitation from Prime Minister Theresa May. Over 75,000 people including activists, trade unionists, socialists and environmentalists marched against the state visit.
Prensa Latina interviewed CSC Director Rob Miller on the demo. The report (in Spanish) is online here and a video produced by Prensa Latina is online here.
---