US blocks medical aid to Cuba in show of 'wild west brutality'
Morning Star Online | Friday, 3 April 2020 | Click here for original article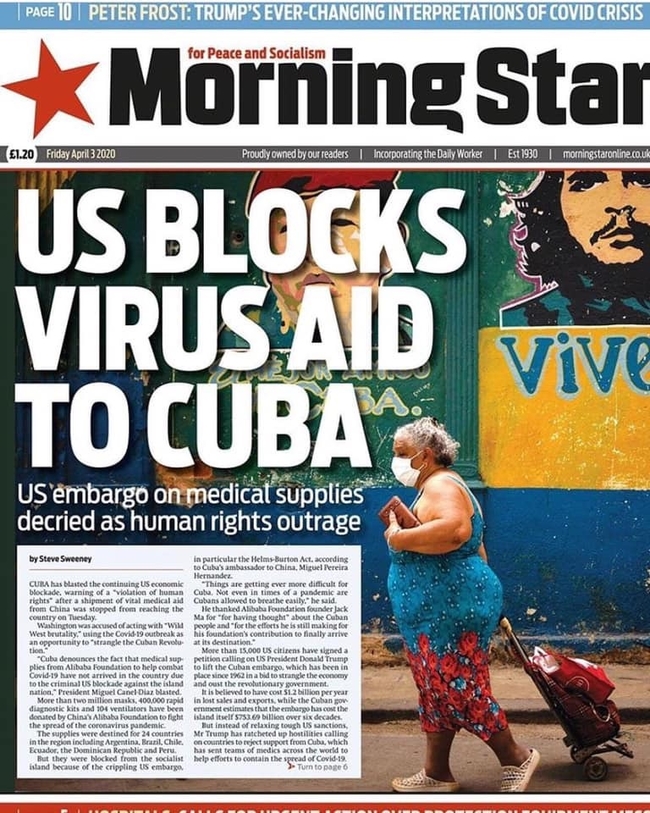 CUBA has blasted the continuing US economic blockade warning of a "violation of human rights" after a shipment of vital medical aid from China was stopped from reaching the country on Tuesday.
Washington was accused of acting with "Wild West brutality," using the Covid-19 outbreak as an opportunity to "strangle the Cuban Revolution."
"Cuba denounces the fact that medical supplies from Alibaba Foundation to help combat Covid-19 have not arrived in the country due to the criminal US blockade against the island nation," President Miguel Canel-Diaz blasted.
More than two million masks, 400,000 rapid diagnostic kits and 104 ventilators have been donated by China's Alibaba Foundation to fight the spread of the coronavirus pandemic.
The supplies were destined for 24 countries in the region including Argentina, Brazil, Chile, Ecuador, the Dominican Republic and Peru.
But they were blocked from the socialist island because of the crippling US embargo, in particular the Helms-Burton Act, according to Cuba's ambassador to China, Miguel Pereira Hernandez.
"Things are getting ever more difficult for Cuba. Not even in times of a pandemic are Cubans allowed to breathe easily," he said.
He thanked Alibaba Foundation founder Jack Ma for "for having thought" about the Cuban people and "for the efforts he is still making for his foundation's contribution to finally arrive at its destination."
More than 15,000 US citizens have signed a petition calling on US President Donald Trump to lift the Cuban embargo, which has been in place since 1962 in a bid to strangle the economy and oust the revolutionary government.
It is believed to have cost $1.2 billion per year in lost sales and exports, while the Cuban government estimates that the embargo has cost the island itself $753.69 billion over six decades.
But instead of relaxing tough US sanctions, Mr Trump has ratcheted up hostilities calling on countries to reject support from Cuba, which has sent teams of medics across the world to help efforts to contain the spread of Covid-19.
The US State Department insisted that Cuba was only offering its international medical missions to those most affected by the Covid-19 outbreak "to make up the money it lost when countries stopped participating in the abusive programme."
Cuba Solidarity Campaign director Rob Miller accused the US of "Wild West brutality" using the Covid-19 pandemic as an opportunity to "try and strangle the Cuban Revolution" – something it has failed to do in more than 60 years.
"Cuba on the other hand is again demonstrating its humanitarianism and internationalism by sharing its medical expertise across the globe to all regardless of country, colour, wealth or creed," he said.
"I urge everyone to join the growing call for an end to the criminal blockade, at least temporarily, to allow Cuba to help win the fight against the virus at home and abroad."
Cuba has 212 confirmed cases of coronavirus with six reported deaths, but fears as many as 3,000 may be infected with those suspected of having contracted Covid-19 being treated in state-run isolation facilities.
It is rolling out rapid testing with 100,000 kits in the country. Tests are also being conducted on all those in isolation centres, nursing homes and the elderly in the belief that they are most susceptible to the rapid spread of the disease.
More than 28,000 Cuban medical students have been going door to door to raise awareness about coronavirus and to screen the population.
Cuba has one of the highest doctor-to-patient ratios in the world with 82 for every 10,000 people.
It has sent medical teams and aid to more than 50 countries across the world including Italy and Iran which have seen thousands of deaths due to the Covid-19 outbreak.
Washington has gone to desperate lengths to smear international solidarity relief efforts as it struggles to support its own citizens and health workers.
China recently deployed a team of medics to assist the US where more than 250,000 people have contracted coronavirus amid severe shortages of protective and medical equipment.
Sign the petition calling for the US blockade of Cuba to be lifted here https://cuba-solidarity.org.uk/end-the-blockade/?fbclid=IwAR0fZpsYRdACM4r8bQIaoTC_NOErTveg7AGBlRL8nBw9KNQK6_Hoqlbdll4.
---