May Day 2021 - Report
Campaign News | Wednesday, 5 May 2021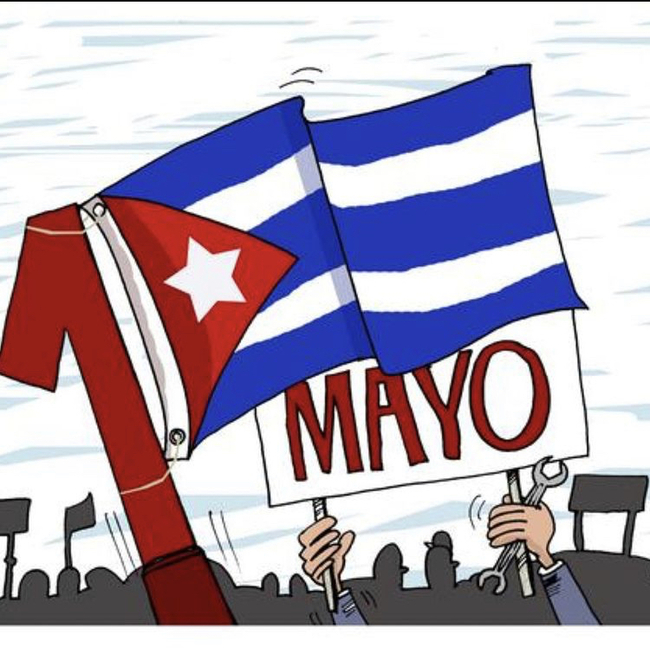 For the second consecutive year, May Day in Cuba was celebrated virtually because of the ongoing global COVID-19 crisis. The virtual celebration took place over two days with messages being shared from trade unions and solidarity organisations from across the world.
Celebrations began on Friday 30 April with the opening plenary meeting of solidarity hosted by the Workers' Central Union of Cuba (CTC). Comrades and friends of Cuba from around the world were greeted by a panel including Ulises Guilarte de Nacimiento, General Secretary of the CTC and Fernando Gonzalez, President of the Cuban Institute of Friendship with the Peoples (ICAP).
Messages of solidarity from around the world were shared with attendees, including from Kevin Courtney in his capacity as international spokesperson for the TUC.
Kevin said, "We continue to condemn the illegal and unjust blockade of your country by the United States."
The celebrations continued into the evening with the European Regional Forum meeting of solidarity taking place.
Messages from solidarity organisations across Europe were shared including from the European Parliament, Greece, Belarus, France, Switzerland, Portugal, Ireland and Ukraine. Rob Miller, Director of the Cuba Solidarity Campaign, highlighted the work CSC has been doing to spread solidarity with Cuba and to end the blockade during this time of crisis.
The meeting ended with Gerardo Hernandez, Miami Five Hero and National Coordinator of the Committee in Defence of the Revolution, thanking trade unions and solidarity organisations from across Europe for their solidarity and support over the past 60 years.
On May Day the celebrations continued with special TV interviews and coverage from workers across the country including a reduced celebration from Plaza de la Revolucion. Cuban President Miguel Díaz-Canel was in attendance.
During the closing session, a special message from former President of Brazil, Luiz Inácio Lula da Silva who said, "I would like to express my solidarity with Cuba because Cuba is an example for Latin America and the world, an example that its possible to endure without surrendering to the pressures of rich countries."
To see the messages sent to Cuba for May Day, use the links below:
To watch the May Day celebrations, use the links below:
Friday 30 April - International Meeting of Solidarity with Cuba
European Regional Forum 6pm (BST)
Saturday 1 May
Online May Day parade 1pm (BST)
---