President calls for peace and announces new measures to help ease situation
CubaDebate (spanish) | Friday, 16 July 2021 | Click here for original article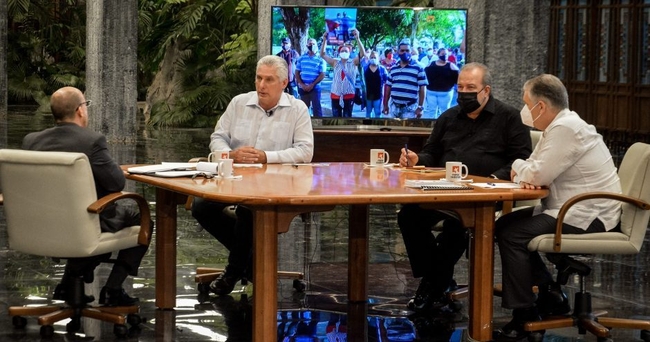 In the case of medicine shortages and the vaccination programme, Prime Minister Manuel Marrero Cruz said that by the end of August 60 per cent of the population will be fully vaccinated. Currently 25 per cent had received at least one dose. From September those aged 3-18 would also begin to be vaccinated.
The Cuban prime minister said that of the 619 basic medicines needed in Cuba, 365 are produced by the national industry of BioCubaFarma, "which does not mean that it does not carry foreign currency because raw materials have to be imported." In addition, 254 are totally imported by the Minsap.
He said that the current supply situation, due to the shortage of foreign exchange, has caused a lack of medicines throughout the country's network, with key drugs needed to produce basic medines unavailable.
He mentioned that the most affected products are related to antihypertensives, antibiotics, analgesics, contraceptives, vitamins and products for stomatological use , among others.
"This low availability of medicines not only has to do with the lack of financing, sometimes suppliers of many years that have not had availability of raw materials due to the growing demand in the world due to the situation of covid-19."
Likewise, "we have suppliers that, due to pressure and new measures from the United States government, are unable to guarantee shipments."
"The whole issue of the blockade has meant for us an increase in the costs of acquisition and supplies of between 30 and 50% of many products."
Marrero Cruz said that from this complex situation they have been able to acquire some resources to see how to increase the production of medicines.
"Today we have a significant level of raw materials available in the country and a drug production process is being developed with significant levels. Many of the medicines for more complex and critical diseases are produced in Cuba and we are already in a position to advance with raw materials ".
These measures will help to minimise the impact, but we still cannot say that there will be a stability in the supply of medicines," he said.
Further discussions were had on the state of the country's power supply, issues with the delivery of oil and parts for power stations and repairs that had taken place and hoped to aleiviate some of the power issues. A temporay end to all tarrifs on food, hygiene and medicine imports was also announced.
Addressing the impact of the blockade on the economic situation President Diaz-Canal said "Let there be no doubt that we want a more prosperous country and that we are dissatisfied with not having achieved it. We know that if they leave us alone, if they let us act with our own strength and talent, if they do not hinder us, put obstacles, obstacles, we can achieve it. If we achieve that economic opportunity, we will be able to multiply the immense social work that the Revolution has created, which no one will be able to move."
There may be dissatisfactions, he said, but the Revolution is a work of social justice , "with that economy blocked, truncated and in which we are also not as efficient as possible, that is why we have to be constantly, in recent years, perfecting the model economic and social, introducing changes, reforms, applying experiences, trying to advance further and suffering the attacks of things that do not fit us as we want."
"Why were we forced to have five vaccine candidates? The blockade does not allow us to have the money to buy vaccines made by other countries. The blockade threatens our sovereignty."
He concluded by saying that defending the Revoluion was not a call for violence. "We are going to defend the Revolution to the last consequences. We call for solidarity and not to let hatred take over the Cuban soul, which is a soul of goodness, affection and love.
"Do not allow ourselves to be disunited and fractured by those who do not want the best for our nation. Problems are solved among Cubans in the Revolution. This is how it has always been in these 60 years ".
The CubaDebate article in spanish has further details on new measures including distribution of food, salary scales, changes to the regulation of micro, small, and medium companies. The full discussion can also be watched in spanish.
---